09 October, 2006
Brown is the new drab
There's a reason that women from 1950s Hollywood starlets to today's footballers' wives dye their hair blonde. Platinum hair illuminates the face, it softens the features, it reflects light and glitters, but above all it takes the attention away from less than perfect beauty.
Which is why so many wannabes slump to Plain Janes when switching back to brown. Case study number one, Z-list queen
Chantelle
: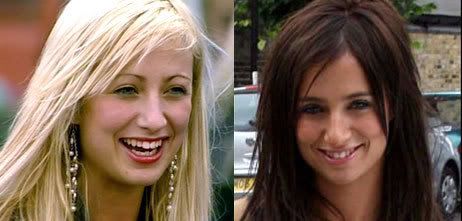 From stunna to frump with one application of Clairol. For comparison, let's have a look at Chantelle's more famous "lookalike", skank-ho queen Paris Hilton:
Ladies, if you're not Sophia Loren or Monica Belluci, for fk's sake make use of the gifts that Mother L'Oreal gave you.